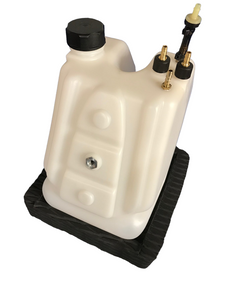 Custom fuel cell with an option of single or dual feed ideal for powerfactor , rickter , wdk , or tnt exhaust pipe setups. includes pickup weights inside tank , and check valve on top of tank. 
After many years of testing these tanks in our pro boats we are satisfied that these are the best on the market. no push in fittings that leak , no pop in cap that also leak. 
in our opinion there are only two options when using a gas tank these or oem style tank.
tank cradle not included