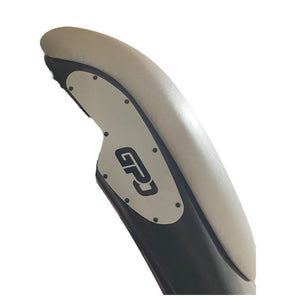 Our Kawasaki 750/800 handle pole braces are designed to eliminate the stuborn cracking that occurs with these two models. Use these braces with a quality two part epoxy between the brace and handle pole and you'll be happy with the end results and save on a costly upgrade or repairs. The GPO logo is a sticker ensuring you get excellent coverage where it counts!
You will need to pre-drill the rivet holes, rough up the surface of the handle pole with a max of 80 grit sandpaper that will be covered by the plate as well as rough up the backside of the plate. Apply a genourous amount of epoxy to the back side of the plate and then rivet into place. Use a clean dry rag to clean up what ozzes out. Let cure for the recommended epoxy time. 
Go ride with confidence!
20 Aluminum blind rivets are included.
all gpo parts are special order