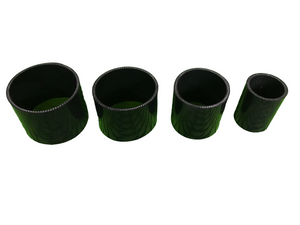 Exhaust Coupler Choice Of Size these sizes are most sizes found in factory pipe , powerfactor and rrp pipes.
Don't be fooled by other companies high priced couplers these are fully tested in 701cc-1200cc freestyle skis with many months of wear and very little amount of failure. Please make sure you align your exhaust correctly for longevity of these couplers.
1.75
2" 
2.5" 
3"
3.5"  
3.75"  
4"  B Pipe chamber to manifold
4.5"
5"
our above chart is for reference only some manufacturers make slight modifications to their products from time to time which affects the coupler diameter all measurements are INSIDE DIAMETER. 
all couplers are 3" long and 4 ply silicone , black in color